About Thomas Jefferson Roofing & Remodeling LLC – Your Trusted Indianapolis Roofer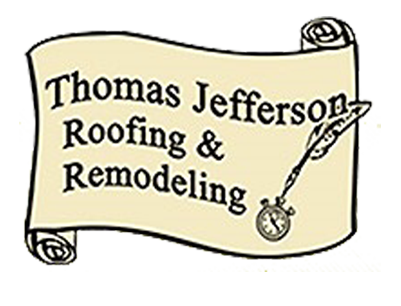 Nothing can stop the man with the right mental attitude from achieving his goal; nothing on earth can help the man with the wrong mental attitude.
~ Thomas Jefferson
We know that happy teams create happy solutions for happy customers. With a positive mental attitude, we get inspired to serve the wonderful people in metro Indianapolis as a top roofer.
While the founders of this government declared independence to shine a light on the importance of freedom, the light gets brighter when the freedom of every diverse human is encouraged.
One of the owners of this company had the pleasure of being raised by a father and mother who were two of the kindest people to ever walk this earth. Tim's Dad was not only a gentleman's gentleman, he was so brilliant at age 12 that he built this stagecoach. He became an engineer, as well as a master-craftsman, and this fore-father had the skill to have worked alongside the master-craftsmen who built Monticello.
As a local leading roofing contractor, we offer everything from roofing inspection to remodeling work. We've been able to remain a top roofer and remodeling contractor by focusing on goals such as:
Excellence in On-time Appointments
Guaranteed Customer Satisfaction
Excellence in Employees who are Founders of Hard-to-Find Leaks
Excellence in Constant Never-ending Improvement
Choose The Roofer That Cares!
We're known as a preferred roofing contractor in Indianapolis because we're committed to excellence. Customers choose us for roofer and remodeling services based on our mission and core values.
Mission: To create the most fun as we deliver the highest quality of customer service in the roofing and remodeling industry!
Core Values:
Happiness: The happy vibe starts within and it starts with me.
Attract – Inspire – Train: We will attract, inspire and train happy people who are passionate to explore ever better ways to serve people in Metro-Indianapolis.
Excellent Customer Service: Our happy customers are inspired by the ease with which our happy team makes masterpieces of their treasured homes & assets.
Great Quality – Great Guarantees: Our work of art is backed by guarantees that are second to none.
Appreciation: There is something to appreciate in everyone's life, liberty, and pursuit of happiness! Appreciation is a key to happiness, sustainability, and sustained happiness.
When you need a roofer for your Indianapolis home or business, give Thomas Jefferson Roofing & Remodeling LLC a call.
Check Out Our Reviews
Thank you so much for the fantastic work that you and your employees have done on behalf of Sheridan First Baptist Church. We could not be more pleased with the quality of your work and the efforts you made on our behalf with our insurance company. [...]
I was working with Thomas Jefferson Roofing in Carmel. They were really great to work with; very friendly, prompt, and professional. Really a pleasure to deal with. and they came highly recommended, both for competitive pricing, guarantees, and workm [...]
We recently had a major hail storm blow through. We've had a number of storm chasers come by offering to perform a free inspection but I prefer to engage with a company that is recommended by my insurance agent. In this case, you came recommended t [...]
I am very satisfied with the work. I am likely to use you in the future. I need the roof replaced in a year or two and I will call you guys when I am ready for that. I love that you are located in Carmel and do quality work. [...]
My Husband and I recently had a new roof put on our home in Noblesville. We are so pleased with the new roof and the roofers that we just had to let you know. The roofers, Rick, Chuck, and the younger man, were very professional and polite. They work [...]
Read More Reviews
Financing
0% APR, 4.99% APR & More
Check Rates Without Affecting Your Credit Score
FICO Scores As Low As 500
Loans $1,000 To $100,000
Check Rates In Under 2 Minutes Areas We Service
Contact Thomas Jefferson Roofing & Remodeling for premium roofing contractor services in the following areas:
Contact Us Today
If you are looking for a professional Indianapolis roofing contractor, please call us today at 317-846-3598, or complete our online request form.